NEW DELHI: Three amendments and backchannel talks with parties have seen the Centre break the impasse on the National Medical Commission (NMC) Bill, which was in the eye of a controversy as doctors protested outside and the Opposition inside Parliament.
The Centre has now increased the number of members in the NMC to 22 from 14, giving more representation to the states in the body which could replace the scam-tainted Medical Commission of India. "This was the only bill that the government took the Opposition's suggestion," Trinamool Congress Rajya Sabha MP Derek O' Brien said. "The health minister agreed that if the number of members to be nominated by the states is increased, the states get a better representation in two years rather than four years."
Health minister Dr Harsh Vardhan told ET the regional parties had their reservation about the representation in the NMC. "So, we addressed the representation with the amendments," the minister said. Without going into specifics, Dr Harsh Vardhan said, "some were touchy about a certain provision, some others were touchy about another. So, we decided to take everybody along and take them on board."
Three amendments were introduced— two in Section 4 of the bill. Now, Section 4 (4) (b) says, "The following persons shall be appointed as part-time members of the Commission, namely… (b) ten members to be appointed on rotational basis from amongst the nominees of the states and union territories, under clauses (c) and (d) of sub-section (2) of Section 11, in the Medical Advisory Council for a term of two years in such manner as may be prescribed". Section 4 (4) (c) reads, "nine members to be appointed from amongst the nominees of the states and union territories, under clause (e) of sub-section (2) of Section 11, in the Medical Advisory Council for a term of two years in such manner as may be prescribed."
Source – https://health.economictimes.indiatimes.com/
Radiant Life Care that acquired Max Healthcare through a two stage structured transaction, has restructured its board of directors and leadership team. Former Sebi Chairman UK Sinha and Micheal Neeb former president of HCA Healthcare, a US-based leading hospital chain joined as independent directors.
In addition, Radiant has nominated Sanjay Nayar CEO of KKR as non- executive director. Tara Vachhani and Mohit Talwar will continue as Max India nominees. After the completion of the transaction that will take 8 to 12 months, KKR will be largest shareholder in the Max-Radiant combined entity.
As the merger between Radiant and Max Healthcare is underway, to manage the day to day operations of Max, a management council has been constituted. The council members include three senior directors – Yogesh Sareen, Mradul Kaushik and Vandana Pakle.
In the first part of the deal, Radiant Life Care had acquired 49.7% stake in MHIL for Rs 2,136 crore from South African firm— Life Healthcare. Abhay Soi, Chairman and Managing Director of Radiant has been appointed as the Chairman of MHIL.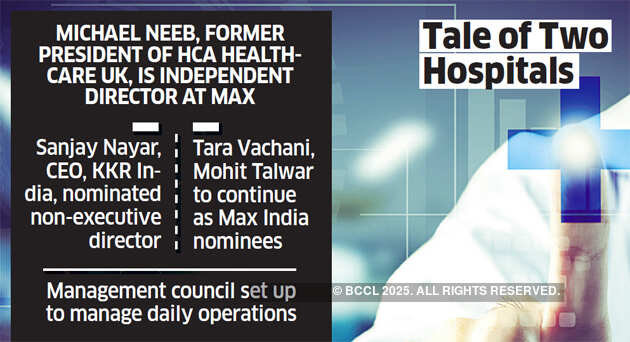 The company intends to embark upon a growth strategy based on both organic and inorganic growth, said Abhay Soi promoter of Radiant Life. "Market downturns and uncertainty are best suited to entrepreneurs. Both, talent and opportunities are available to build businesses" Soi said. MHIL intends to follow a well calibrated but robust growth path through organic and inorganic means particularly in Metros of Delhi and Mumbai, he added.
Meanwhile senior executives from Fortis Healthcare including H S Chehal and Umesh Gupta, former regional COO and Head-HR respectively have joined MHIL and Suneel Kapur, National Sales Head at Fortis has joined Radiant.
The new entity will be the third largest hospital chain nationally in terms of revenues across hospitals of Rs 3628 cr in FY 19 and 16 facilities with approx 3,400 beds in operation. 
Source – https://health.economictimes.indiatimes.com/
Kolkata: Researchers from IIT Kharagpur have developed a low-cost diagnostic device which can perform various pathological tests by using blood taken from a fingerprick.
The device requires only a paper strip based kit integrated with a smartphone to enable analytics and readout functions and an LED light for imaging, an IIT KGP statement said on Tuesday.
The key aspect of the kit, developed by a research team led by Prof Suman Chakraborty, is operational simplicity and extremely low running cost, it said.
While under laboratory conditions each test would cost Re 1 or even less, the cost is expected to marginally vary in case of commercialisation of the product, the statement said.
On the operational front, the device requires a single drop of blood and a drop of reagent (a substance used to cause a chemical reaction) on the paper-based reaction chamber.
This detection method is designed to harness the flow of blood from an input source pad to a reaction pad for diagnosis.
"Compared to other reported portable devices for haemoglobin estimation, this device is implementable without any trained personnel at resource-limited settings, Chakraborty said.
Extensive validation tests have been conducted for blood glucose and haemoglobin at laboratories as well as in the field, both in clinical environment and villages with limited clinical facilities.
"We have tested it at extreme challenging environment with uncontrolled dirt, dust and humidity, and in the absence of structured clinics or air-conditioned pathological laboratories to work," Dr Satadal Saha, visiting professor at the School of Medical Science and Technology of IIT Kharagpur, said. Saha along with Chakraborty led the joint team for field work.
Source – https://health.economictimes.indiatimes.com/
Innov8, Golf Course Road, 3rd Floor, Orchid Centre, IILM Institute, Sector 53, Gurugram, Haryana 122022
Building No : 256/6, Office No 2,Near Pocket 10B, Jasola , New Delhi – 110025
Contact No : 011- 26946348, +91 9599193575
contact@voiceofhealthcare.org